What is Steel Stitch™
The Steel Stitch™ Method
The Steel Stitch™ Method is the Fastest, Easiest and Best way to fabricate fabric awnings and canopies. Staples are driven into a cross web located inside the Steel Stitch™ tube, attaching the fabric securely to the awning frame. Covers can pass over non staple-in frame members or be stapled to some or all frame member that the cover contacts. After the cover is stapled and trimmed, the staple channel is concealed with Steel Stitch™ PVC or Fabric Covered ZipStrip which is quickly driven into the channel with a small pneumatic hammer.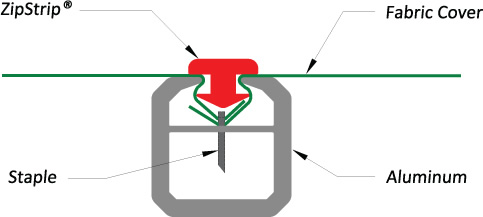 As most people familiar with the method will attest, covering awnings with this method is faster and easier than other methods. This is particularly true for more complicated shapes, since it eliminates the need for patterning of the cover. The more complicated the shape, the more time you'll save stapling the cover. Fabrics that craze (thin white lines on the fabric caused by folding or creasing the fabric) can be particularly difficult to work with when making a large sewn or welded cover, a problem avoided by stapling the fabric directly to the frame without the need for excessive handing. Making sewn or welded awning covers can take several years to master, where stapling can be learned in days and mastered in weeks.
Stapling is certainly easier, but none of that matters if the quality doesn't match up with other methods of awning construction. And that's where Steel Stitch™ awnings really shine. Because it is easier,stapled covers fit drum tight, with little to no wrinkles. On the other hand, fabricators that use more difficult, time consuming methods often have to make numerous alterations to a cover before they can achieve a proper fit. Often, because of deadlines or cost concerns, they accept poor fitting covers. The result not only affects the appearance of the awning but also the durability as loose fitting covers wear more rapidly as they blow in the wind and rub against the awning frame.
Another area where the Steel Stitch™ method is particularly advantageous is in building large canopies like patio and walkway covers. To produce a durable cover for these large structures, the covers should be attached not only at the perimeter (railroaded) but to most if not all rafters. This is the only way to transfer uplift wind loads to the entire frame, not just the perimeter. Stapling to those rafters is much easier than other methods like sewing a pocket or flap on the underside of the cover that is laced or screwed to the frame. As with taking the time and effort to make covers that fit well, this is a step that some fabricators won't take the time to do properly unless they can do it quickly and easily with the Steel Stitch™ method.